Halle had the amazing opportunity to go to Honduras and study with the Dolphin Communication Project. She left on NYE, and so she got to start a new year in a brand new country! It was an incredible experience for her. Routan is a stunningly beautiful place. The weather was perfect. And she got to know an entire pod of dolphins. Is there anything more like Heaven than that? I'm pulling some "field reports" from their trip so we can have a taste of what they did. She had to be at the airport at 2:30 in the morning. I've never been quite so happy to have a teenage driver as in that moment. Josh was more than happy to stay up and take her to the airport 🙂
And one more amazing thing: A few weeks after the trip the professor called Halle into his office. He handed her a $1600 scholarship! He said that Ron, a friend of the university and the DCP, who attends these trips every year, has a scholarship foundation. They pick one student from the trip to receive a scholarship. And he picked Halle! We are all so proud. She was shocked and excited!
DAY 1:
A very early travel day brought our CSU team to Roatan in the early afternoon. Everyone got settled in followed by an orientation and then a visit to Bailey's Key to meet the dolphins. After a yummy supper, we watched some of the video Kathleen recorded this morning and began practice at recognizing the individual dolphins. We each had one statement about the day, with more to follow tomorrow after our first set of observations.
Ember – I can't wait to get to know the dolphins better.
Natalie – Sleepy but still excited. Weather is way better than Colorado.
Adilia – Learning my group mates' names is much easier than trying to distinguish the dolphins.
Amelia – The beautiful view of Roatan when you first arrive is breathtaking.
Halle – The sleepless night was so worth it for this amazing experience.
Lauren – Excited and prepared for the most unique experience of my life.
Madison – Excited to be back. Always grateful to be part of this experience.
Ron – I'm just grateful to be able to share this experience with family again. It's so unique and special.
Manon – First peak at dolphins on a sunny day. Goodbye to 2022.
Shane – Impressed by the gratitude and fortitude of the group after a very long first day.
Happy New Year's eve to everyone and "see you next year!"
Cheers
CSU Group 1 (a team name to follow tomorrow once we have rested and revived our brain cells!) or Sleepy Rams
DAY 2:
This morning was our first early morning data collection session of surface observations while Kathleen was recording underwater video of the dolphins. It went well and we spent about 45 min asking questions and discussing methods for data collection and research questions before breakfast. We also had an introduction to DCP and to DCP's research at RIMS, as well as an introduction to the dolphins and the marks used to recognize each individual. An afternoon snorkel was followed by us getting to observe some training with Maury and Gracie. In this post's photo, some of us are meeting Gracie!
Here are our individual impressions from the day:
Adilia – Testing out my sea legs from constantly moving docks. Maybe tomorrow the island will stop moving.
Natalie – First time snorkeling. Hopefully didn't kick any coral. Will toothpaste mask tonight for better visibility tomorrow.
Amelia – watching the trainers work with the dolphins was the highlight of my day. And, learning the trainer's story as well was interesting.
Halle – I really liked learning the different observation methods and can't wait to use them in future dolphin observations.
Lauren – One day I'll be able to tell the difference between Buzz and Rocky.
Ember – Gracie has my heart. I loved getting to take a closer look at her with the trainer. Her skin feels like a wet hotdog.
Jeff – Every day is a great day when you start it with dolphin observations.
Madison – A very long, exciting day. Happy to be back in the ocean!
Ron – It was great to be in the underwater marine community again.
Manon – Interesting morning observation with full-on Maury show – lots of breaching, tail slapping and more breaching in different position.
Shane – biggest parrot fish EVER! On the afternoon snorkel. The barracuda was cool but the parrot fish was phenomenal.
We look forward to more data collection tomorrow morning and then a visit to Maya Key.
We've also come up with our group name!
Until tomorrow,
WET Rams
(We Explore Together, Rams!)
DAY 3:
Our day was packed! We began with data collection, as you can see Natalie and Adilia doing in the cover image. Each day the note taking gets a bit more routine. While waiting for the water taxi, Amelia, Lauren, Halle, & Ember tested out the 'big chair'! And after breakfast, we packed our gear for the shuttle to Maya Key and spent the morning snorkeling off the reef and then checking out the Mayan ruin replica and the rescued animals who call the key home. It was really great to snorkel and confirm fish IDs from the lecture last night.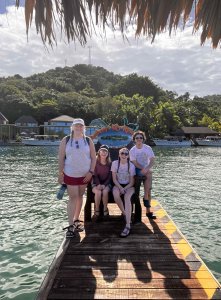 Below are our impressions!
Lauren – Found a new favorite fish – damsel fish, aka disco ball!
Adilia – Collected data – it was chaotic at first. But eventually we found a rhythm.
Halle – Really enjoyed snorkeling on the reef and knowing what fish I was actually looking at. And, I held a baby sea turtle! (excited giggles after!)
Ember – I watched a macaw projectile pee toward me – it was impressive and a close one.
Amelia – Getting to see the baby sea turtle was the cutest thing ever. Getting to learn new tricks for snorkeling when its windy was very beneficial.
Camille – I've done snorkeling before so I was not surprised but the dolphins for me – it is like they are not real … better than a dream.
Jeff – what's better … three meals a day or three dives a day? You decide!
Madison – Another fun-filled day. So happy I got to see the first sea turtle of the trip today.
Ron – It was an excellent day with my first non-helicopter dive-buddy dive today. Jeff solo'd.
Manon – Hurray! First French Angelfish of the trip!
Shane – Damn, that was a giant ass parrot fish today! (seen only by Shane and Halle and Lauren!)
Our data collection session – surface data and space use – will come early tomorrow morning and we look forward to another day filled with learning!
Until tomorrow,
WET Rams
DAY 4:
While the sun was shining this morning and during the day, we spent a good chunk of the day in the classroom learning about physiology, operant conditioning, and sea turtles. It was lovely not to have to reapply sunblock every 20 minutes!
Halle – I really liked listening to the guest speakers today and I saw two octopuses on the night snorkel.
Amelia – The sea cucumbers on the night snorkel were the largest that I've ever seen!
Ember – I loved seeing the progress of how my team did data collection. I think it went smoother than any other day. I felt like I was able to watch the dolphins and accurately know what I was seeing.
Lauren – Saw my first two octopuses on a snorkel today. Kudos ("props") to Halle for being the best snorkel partner ever.
Adilia – Synchronized snorkel dive with my buddy because she didn't have the light to see the lionfish was worth it.
Natalie – Stomach cramps can't keep me down because I saw a snowflake eel on the night snorkel!
Ron – I was tickled by the interaction between the cat at Bailey's Key and the pelican on the boardwalk on the dock … the stand down and the retreat!
Camille – Snorkel by night with two black (brittle) stars in the sea.
Manon – Got investigated by nereis on the night snorkel – pretty interesting.
Shane – Damn that was the biggest parrot fish I've ever seen … on Sunday afternoon!
This morning, there was a good amount of leaping activity just after Kathleen entered the water for data collection, as you can see on this front featured image. And, while Shane watched the two adult male dolphins in the back, Kathleen and Manon focused on the main lagoon to scan for mom/calf pairs. Susie, the cat, kept vigilant while Manon and Kathleen watched the dolphins!
Tomorrow is our dolphin encounter and swim! Woohoo!
Until tomorrow, WET Rams
DAY 5:
Dolphins, Dolphins, Dolphins! We all swam with dolphins today. We started, as is usual, with data collection in the morning. It was a different day with bouts of activity in between bouts of no activity. Each morning is different. The front photo is one of our pano scans that had a dolphin leap during it! And just below we show our RAMs spirit after our swim with the CSU Study Abroad flag!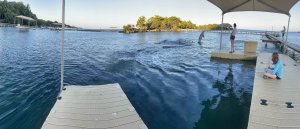 Next, we share our impressions from our swim:
Natalie – I still think the dolphins feel like wet hot dogs.
Adilia – To swim with the dolphins, you had to think like the dolphins.
Ember – I loved seeing the dolphins play underwater, which is something you can't see at the surface.
Amelia – Snorkeling with the dolphins was an amazing and unique experience. You don't realize how large the animal is until you are inches away from them.
Halle – I love Bailey!!!!!! And dolphins are so beautiful and powerful underwater!
Lauren – Swam face-to-face with Gizmo and watched her roll in the sand at the bottom. She reminds me of a puppy in saltwater.
Camille – Tête à tête.
Manon – Another interesting swim with the dolphins. Some close up with mom and calf pairs.
Shane – Damn that was a really big parrotfish, but not nearly as big as the dolphins! The animals were surprisingly quiet and did an amazing job appearing out of nowhere toward us during the swim.
We spent time this afternoon in informal discussion with Shane about our research projects and gaining a better understanding of how behavior can be used to investigate physiology.
We also watched this morning's video and practiced more on the IDs of the dolphins.
Fiesta night is tonight … a BBQ with some contests and an introduction to the Garifuna dancers and the Roatan island culture.
Until tomorrow,
WET Rams
DAY 6: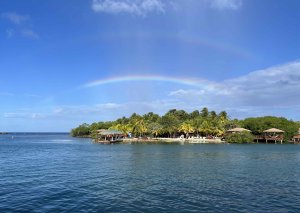 Though the underwater visibility was not great today, Kathleen was able to record lots of footage of Sandy and of Rocky … and both dolphins visited the students trying to entice them to play, as you can see here by Sandy! The morning also provided several rainbows – over Anthony's Key and north of Bailey's Key. Thankfully, the rain happened before we went to Bailey's to collect data.
We had a busy day with data collection, then breakfast (yum!). We also had a talk with Samir, General Manager, and then from Manon (on relationship quality) and Jennifer (on coral reef restoration). Our impressions of the day follow:
Lauren – elkhorn and staghorn coral are now my two favorite corals on the reef. I might travel to Florida to help Dr. Vaughan plant more coral.
Halle – I really liked listening to Manon talk about her research today and how field work is done and how it parallels to other animals.
Ember – Manon's presentation on relationship quality really helped me to make progress on my research proposal.
Amelia – getting to wake up and see a beautiful rainbow and Sandy sticking her rostrum out at the perfect time for the perfect photo was the best way to start my morning.
Natalie – who would've thought that corals would be grown on little plates called cookies.
Madison – Had an awesome dive with Caribbean reef sharks. It was a fin-tastic day!
Camille – Nice discovery with Jennifer's presentation on coral reef restoration.
Manon – Very calm group of dolphins this morning except for the Sandy & Rocky show.
Shane – Second to last full day. Incredibly quiet day with the dolphins. Tomorrow is the last full day with everyone in group 1. Damn that was the biggest parrotfish I've seen!
We also spent time one-on-one with Shane and Kathleen to discuss our projects for the course.
Tomorrow is our last full day here at AKR on Roatan and we will make the most of it!
Until tomorrow,
WET Rams
DAY 7: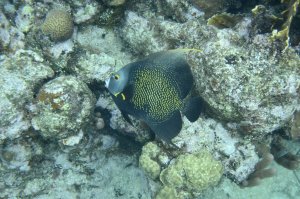 Our second to last data collection session was active! There was socializing between Buzz, Tank and Rocky and lots of leaps by Maury. Kathleen also saw Poli and Tilly and Sandy and Elli and Gizmo … there was much contact and rubbing and also seaweed play!
After our yummy breakfast, we boarded the Dona Yita for a ride toward West End to snorkel on the reef called the Aquarium. Lots of fun fish and a slight current meant we enjoyed 45+ min of snorkel time. The ride home was wet with a rolling swell! Our impressions are below:
Ember – didn't expect to see a porcupine fish on the trip and definitely didn't expect to see an old, huge porcupine fish. It was awesome.
Amelia – getting splashed by very active dolphins three different times was a very interesting way to start my morning.
Natalie – who knew dolphins could dance?! Next time I am at Anthony's Key Resort, I will definitely ask Champ if he is down for a little swing!
Adilia – Got to explore the reef off West End, called the aquarium. It was a bumpy ride back, but I would love to do it again some time.
Lauren – No need for Elitch Gardens! The snorkel boat is the only roller coaster I need!
Halle – If you go really still while snorkeling the fish will see you as one of their own. So, I got to see what it was like to be part of a school of fish.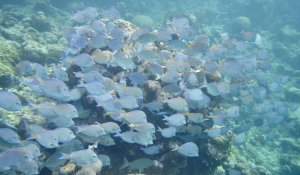 Jeff – Spent the day as a dolphin trainer. Did I train them or did they train me?
Madison – So happy I got to spend my final day with my fiancé with the dolphins. Also, Happy Birthday to my Uncle Ron!
Ron – I am happy to see life-long friend ships being developed this week.
Camille – Beautiful week of discovery! Thank you!
Manon – Very active dolphins this morning. And a lot of interesting fish on the reef during the snorkel.
Shane – Good group, good project ideas and Damn that was the biggest parrotfish I've seen!
The afternoon gave us another visit to Bailey's Key to observe the dolphins in the back pools to see how we might make observations there for our individual project proposals. We watched the morning video followed by our second chats with Shane and Kathleen about our projects. We enjoyed a sweet chocolate cake to celebrate Ron's birthday – Happy Birthday! It was a great week!
Tomorrow is our last data collection session, followed by packing our last items and heading to the airport.
Until tomorrow,
WET Rams